Anil Makkar, MD, JK Tyre Shares 10 Commandments to Develop a 'Sustainable' Business Model
JK Tyre & Industries' Manufacturing Director, Anil Makkar shares 10 commandments to develop a sustainable business model.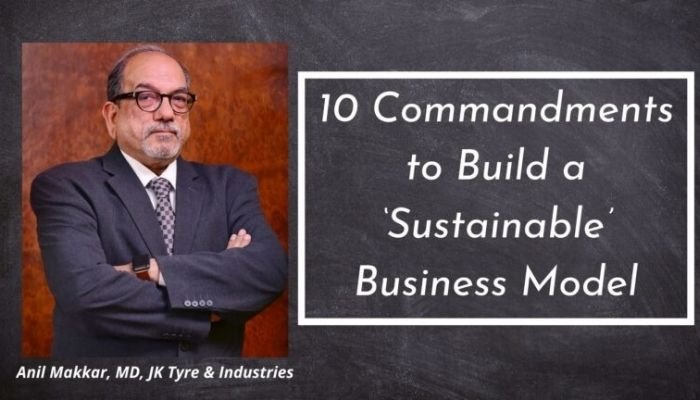 Today, 'sustainability' is the operative word fundamental to all businesses. It denotes if a business that is profitable will continue profitable consistently across the predictable future.
Many analysts may consider this virtually impossible to project on account of numerous variables influencing most businesses today. But the point is that the businesses will not only have to balance the economic, social and environmental priorities but also the short-term needs along with long-term development.
For many businesses, the big question that exists is — How should they enhance their sustainability? Anil Makkar, Manufacturing Director, JK Tyre & Industries says that there is no one thing that businesses need to do in order to have a sustainable model. Instead, businesses need to do everything, everywhere to deepen their commitment.
ALSO READ: Goodyear India Appoints Sandeep Mahajan as its New MD
Here're the top considerations that will help businesses towards building a sustainable model.
Decrease specific consumption of water and energy by 2-5% every year.
Reduce specific generation of waste by 2-5% every year, which includes the quantum of waste going to landfills.
Curtail specific GHG emissions and other process emissions by 2-5% annually and look for opportunities via Carbon Exchange Programmes and Clean Development Mechanism (CDM).
Amplify the use of biodegradable resources in the products by 2-5% annually.
Increase the share of harvested rainwater in the overall yearly use of water by 2-5%.
Make life cycle assessment criteria the part of your model to evaluate new and alternative technologies & products.
Stress on adopting green purchase policy and incorporating newer clean technologies.
Promote and manage product stewardship by building partnerships with businesses and communities.
Decrease depletion of natural capital, which is directly attributable to business activities, products and services by 2-5% annually.
Commitment to showcase attainment of these commandments through pursuit of certifications like ISO 9001, ISO 14001, ISO-27001, TS16949, OHSAS 18001, ISO- 50001, SA-8000, Green Buildings, Eco Labels Sustainability reporting.
Suggested: Interview With Mr Bing Lin-Wu, Marketing Head, Maxxis Tyres